About
Founded in 1978, our Troop is celebrating 44 years of Scouting this year! See our 40th anniversary celebration.
Troop 335 is sponsored by All Saints Lutheran Church, 630 S. Quentin Road, Palatine, IL. Since its formation in 1978, the Troop has received many awards and honors on behalf of its Scouts, and has seen many of its Scouts attain the highest award in Scouting, the rank of Eagle Scout. Rank advancement and development of Scout skills in an atmosphere of fun is emphasized. All new Scouts are encouraged to achieve the rank of First Class within their first year of Scouting. Our Troop has earned the Quality Unit Award, based on leadership, training of leaders, and Scout advancement, consistently over the past years.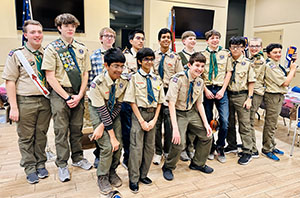 The Troop meets each Monday evening (except during the summer months) at the All Saints Lutheran Church from 7:00 to 8:30 p.m. Meetings during the summer are scheduled about every other week, determined by the summer activities planned.
The Troop schedules monthly outings so that the Scouts are able to practice their skills and work on merit badges and other requirements necessary for rank advancement. Troop 335 annually plans a winter ski trip and a week-long summer camp at Owasippe Scout Reservation. Older Scouts can participate in High Adventure trips also.